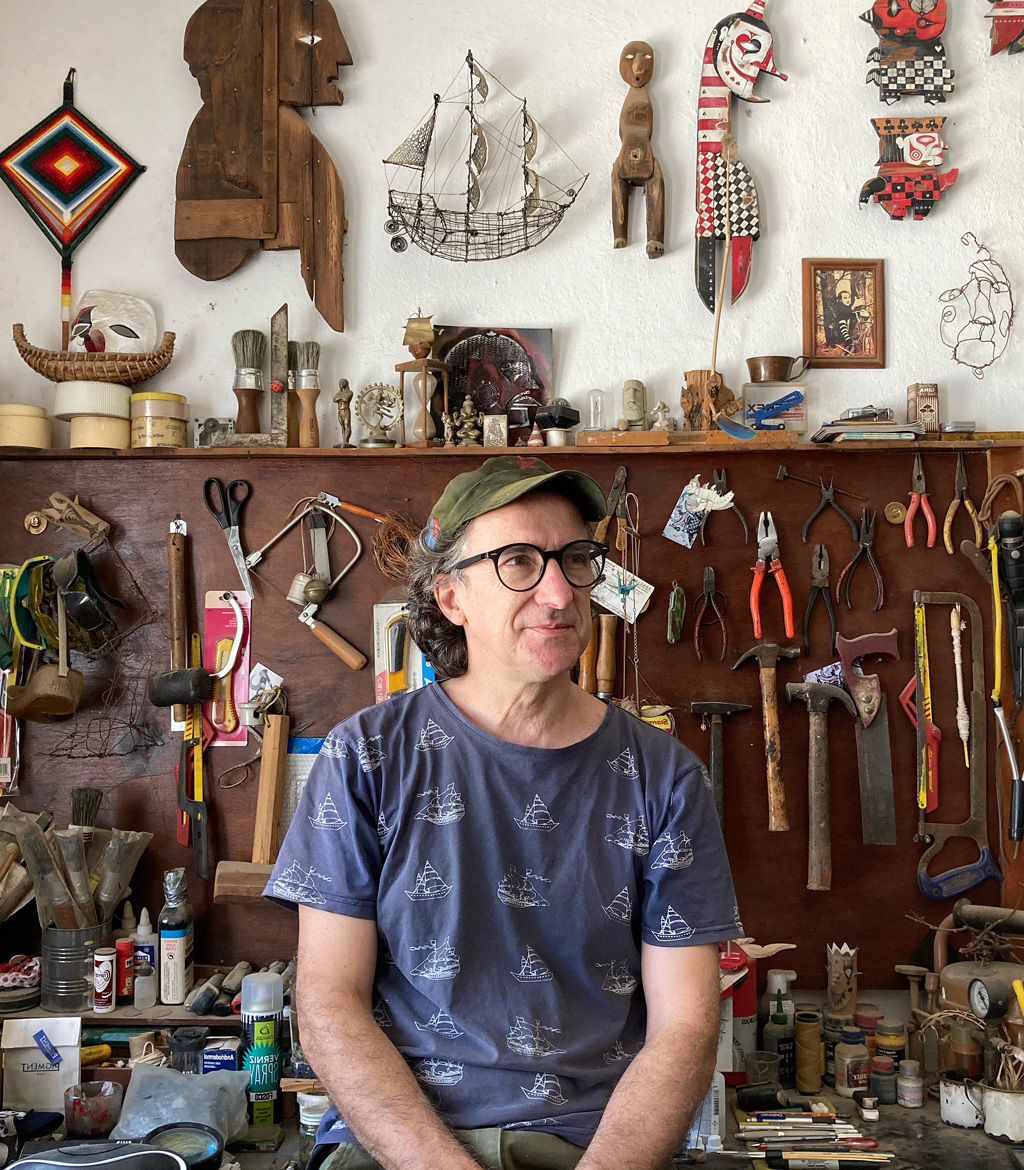 ---
Vitché is one of the most important precursors of graffiti art in the country.
Nowadays, his work is influenced by ancestral cultures. He develops works with paintings on various brackets, wood carvings, and other materials. He began in the early 1980s, always seeking to deliver content from urban environmental and social-political experiences.
Vitché collects pieces of wood that have been discarded in cities, and then makes works with a view for spectators to become conscious.
He has been currently reaching a prominent place among the greatest artists in the country. He has exhibited his work in Brazil and other countries, such as Cuba, Europe, and the United States.
Group Exhibitions
---
2019 - COLLETIVE ART SHOW - Árvore! Tragédia da Paisagem / Praça Adolpho Bloch / São Paulo - Brazil
---
2017 - COLLETIVE MURALS EXHIBITION / Kufas Street Art festival / Wiltz - Luxembourg
---
2015 - COLLETIVE MURALS EXHIBITION / Obra Street Art festival / Obra / São Paulo - Brazil
---
2013 - COLLETIVE MURALS EXHIBITION / Street Art Brazil / Schirn Kunsthalle / Frankfurt - Germany
---
2011 - COLLETIVE MURALS EXHIBITION / Enredados – Casa de America / Madrid – Spain
---
2011 - COLLETIVE SHOW - Pictures on wall / London - United Kingdom
---
2011 - COLLETIVE SHOW - Gestalten Space / Berlin - Germany
---
2010 - INTERVENCIONES URBANAS IBEROAMERICANAS – Centro Cultural de España / Buenos Aires / Argentina
---
2010 - TRANSFER - Pavilhão das Culturas Brasileiras / São Paulo – Brazil
---
2009 - URBAN ART / Weserburg / Bremen - Germany
---
2009 - NE DANS LE RUE - Cartier Foundation / Paris - France
---
2009 - GGG GRAFFITI GONE GLOBAL – Sushisamba / Miami - USA
---
2008 - OS BRASILEIROS - Carmichael Gallery of Contemporany Art / Los Angeles - USA
---
2008 - FRESH AIR SMELLS FUNNY - Kunsthalle Dominikanerkirche / Osnabrück - Germany
---
2008 - INDIVIDUO EXPOSTO – Semana Fernando Furlanetto / São João da Boa Vista / São Paulo - Brazil
---
2008 - TRANSFER – Santander Cultural / Porto Alegre – RS / Brazil
---
2008 - STOLEN SPACE GALLERY – Under a Red Sky / London - UK
---
2008 - TRAFACKA GALLERY - Names Fest / Praha – Czech Republic
---
Solo Exhibitions
---
2007 - EQUILIBRIUM - Jonathan Levine Gallery / New York - USA